Bin picking to help pharma industry cope with unprecedented demands
The rising demand for Covid-19 diagnostics and testing kits has forced many people to be reallocated to jobs on the assembly line. People not trained to work in manufacturing are contributing in every possible way, helping out production workers to meet the demands that still far exceeds the supply. The workers are working overtime, on weekends in the production lines, picking up the kits, placing them in boxes, and continuing to produce more and more.
Manual material separation. Source: https://m.yna.co.kr/view/IPT20200329000004365
South Korea has become one of the world's biggest producers of test kits for coronavirus. It is now trying to meet the demands for testing kits on a global scale. However, despite prior planning and speedy developments, there are clear indications of stress at the core of the test kit supply chain. This is because, as experts have put it, the demand was clearly "unprecedented". Bin picking jobs in the pharmaceutical industry like most others is often dull and extremely repetitive and outsourced to best cost countries like China, India. Here reliability becomes a matter of concern that can be resolved by automation.
Not only to increase production but automation will also ensure safe health conditions for the workforce and remain flexible as a manufacturing unit to meet new changes and challenges in the future.
3D vision in material separation
The process of picking the kit parts from trays or containers and placing them in the assembly line for further packaging (also known as material separation) has the highest potential for automation.
It was hard to automate this process reliably because we have to deal with delicate materials that have to be picked from a box by the human and staged in a structured way in front of the robot or machine.
The same type of problem – scattered parts in a bin that need to go in the next stage of the production process – has been solved already in manufacturing (heavy industries) by robots with "eyes."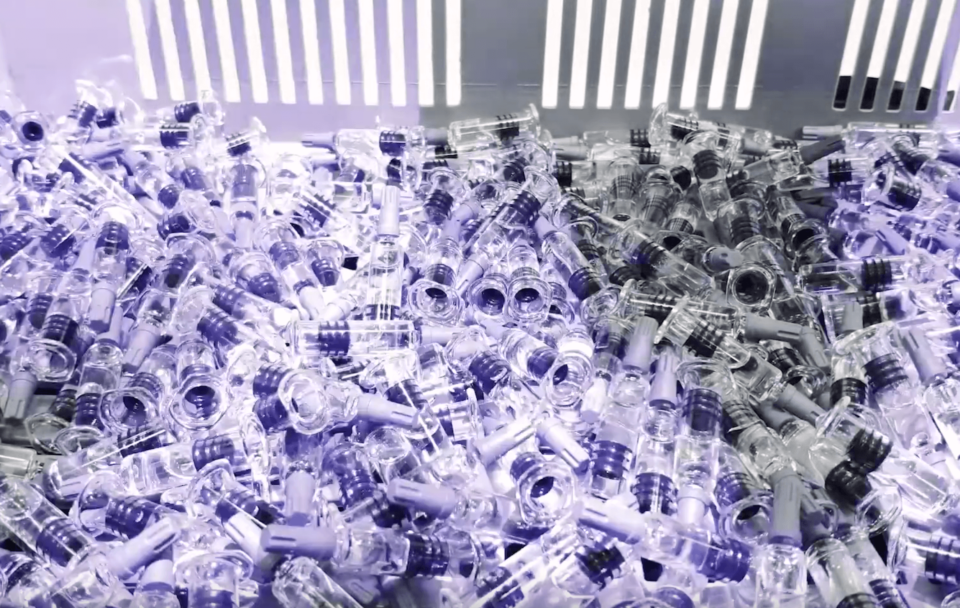 Pioneers in the 3D vision system
Pickit 3D is a pioneer in plug&produce robot vision systems specialized in bin picking applications. Pickit was founded in 2016 as a product spinout from Intermodalics, an organization that develops software for robots. Three founders Peter Soetens, Ruben Smits, and Bert Willaert, saw the potential to simplify process automation for pick and place robots for a large number of production companies with one single product – an intelligent yet easy to use 3D vision system. Pickit guides robots to pick parts directly out of the bin, tray, box, pallet, or conveyor and place them with the required orientation into a machine. Changeover happens with a push of a button: instead of taking up space in the factory to stock different jigs, fixtures and feeders, you store the vision algorithms on a PC.
Bin picking - machine tending application
As many Pickit customers have stated, they use 3D cameras to reduce the need for human labor while increasing output.
Looking beyond traditional bin picking
Classically speaking, bin picking, as we are more familiar with, is practiced primarily in heavy metal industries. The thought of implementing bin picking automation in the pharmaceutical industry has not been emphasized enough for reasons which are mainly associated with vision precision and performance.
But the 3D vision for pick and place robots in healthcare? That is something that was not common. It was too early – pharmaceutical companies were still exploring their way with robots, and 3D vision guided robotics seemed too advanced.
Robotic retraying cell: the proven case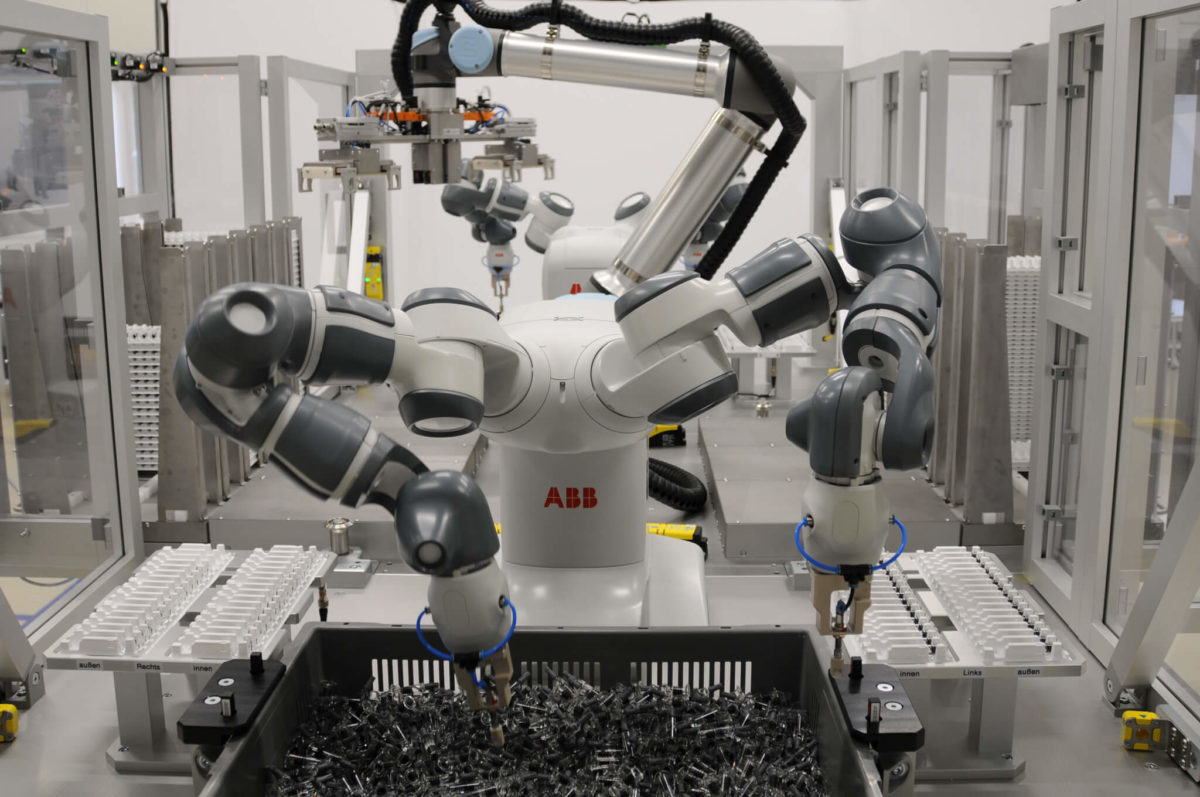 High speed bin picking built for the pharma industry. Read more about it here
A recent case of Pickit with Essert Robotics has successfully demonstrated detraying (or retraying) robotic cells in a pharmaceutical company. An important sub-process in the manufacture of medication is the material separation for further processing. This is known as detraying or retraying. This works relatively easily with tablet blisters or rectangular pharmaceutical packaging. However, when it comes to transparent syringe bodies, for example, which are delivered as bulk goods in containers or boxes, there are often employees who have to move the syringes into the trays provided manually. Essert - the machine builders made use of our vision system as one of the components to develop the overall modular and more scalable ecosystem, thus making use of individual components to establish a solution.
The speed bin picking process enables fast cycle times, high quality standards, and flexible and easy retooling. Similarly, for the various testing kits - RT-PCR, LAMP, and the Antibody testing kits, much of the sub-processes in the manufacturing line include picking and placing delicate parts. 3D vision is necessary for robots to carry out such tasks requiring high quality.
Once vaccine productions begin, the healthcare sector needs to gear up to meet another round of unprecedented demands. In this case, as well bin picking will be an imperative task to automate for faster, safer results.
Bin picking in
pharmacies
Apostore has taken the innovative initiative of using vision enabled robots to pick and place medication packs from wholesale containers and transfer them to the storage system using the Pickit system. The initiative taken by them stands testament to the fact that bin picking, even though it is new to the pharma industry, can prove beneficial to both clinical manufacturing (for R&D purposes) and commercial manufacturing (for patients).
How does it work?
Pickit's HD camera with structured lighting creates noise free images making the process ambient light independent. Structured light is the process of projecting a known pattern (often grids or horizontal bars) on to a view. These deform when striking surfaces, allowing vision systems to calculate the depth and surface information of the objects in the view.
Detecting transparent parts
Detecting transparent parts using machine vision has always been a challenge and in the pharmaceutical industry, transparent parts are unavoidable. Identifying transparent parts like syringes were made possible due to the small labels and caps, which were enough for the high resolution camera and Pickit algorithms. in combination with the system's smart matching algorithm.
Detecting small delicate parts
Any small parts create complexity in bin picking across any industry. Traditional bin picking has always been associated with picking big metal parts from a big bin. However, handling small, delicate parts in the pharmaceutical industry can be a unique challenge that can now be addressed. Pickit system takes a 2D image of the bin, and when visualized from the top, we see a clutter. In one image, we can estimate around 200 small bottles facing the camera, and the system manages to detect them for pick and place.
Handling delicate parts with care
Another critical aspect of remembering in bin picking is collision-free bin picking. This point must be particularly ensured in the pharmaceutical industry because we handle delicate parts that need special care. Pickit systems ensure collision free bin picking with the use of modeling tool technology. Pickit allows us to model the robot tool that is used for picking. The tool model is useful for visually confirming the correct location of a pick point, and can also be used to prevent collisions between the tool and a bin or other objects. A pick point represents where the robot can pick an object. It is specified as a position and orientation relative to the object, where the robot Tool Center Point (TCP) should move to perform a pick. What constitutes a good pick point depends on both the gripping device and the object to be picked. In constrained picking scenarios like bin picking, it is possible to prevent collisions between the robot tool and the bin or other objects.
When defining pick points after object detection, it is helpful to visualize the robot tool with respect to the object to confirm the correct placement of a pick point. If the application requires it, it is possible to create multiple tool models and assign different tools to different pick points. A common example would be a two-finger gripper used with different opening distances depending on the selected pick point.
Bin picking in the Pharma industry: Why is it necessary?
Some of the points we want to highlight on, establishes the necessity for bin picking automation in the pharma industry:
Pharmaceutical manufacturing is an area with strict regulations requiring precise quality control of drug products. Every parameter that potentially has an impact on the quality should be known and traceable. This also includes training of the operators as a part of what has to be traceable. You have to be able to prove that your operators have sufficient training and must be retrained when required. Using automation for manufacturing processes makes the overall operation simpler.
A system, equipped with different, interlinked advanced automation structures for systematic process controlling and reliable optimization procedures makes the overall process more reproducible.
Bin picking jobs in the pharmaceutical industry like most others is often dull and extremely repetitive and is often outsourced to best cost countries. Here reliability becomes a matter of concern that can be resolved by automation.
Avoidance of manual labor
The speed and direction of motion of human operators have an impact on airflow. Predictable movement - with robots, can control the speed and acceleration of the robot, minimize the airflow, minimize acceleration and speed ensuring certainly that there will be no jerks in motion and airflow is guaranteed to be constant or minimal. Studies have shown that the airflow can influence the number of impurities or contaminants on the final formulation. Bin picking is one of the significant tasks in pharmaceutical manufacturing that requires manual intervention.
In the course of the pandemic pharma industry experienced a huge rise in demand for test kits, masks, sanitizers and vaccines eventually in the coming days. Pharma manufacturing facilities can no longer depend on developing the same product every year. More personalized and specialized treatments mean manufacturing in smaller volumes for targeted populations. Hence there is a transition from "one-line-one-product" framework to one-line-multi-product manufacturing facilities. Lines must be devised to be more agile, with the capability to respond to changing demands quickly. That is why now we have customers who use Pickit in the production of face masks. Another aspect of this is flexibility – during this pandemic, the demand was for more masks. In the next unforeseeable outbreak, the demand may occur for something we are not aware of yet. This is where Pickit's teach algorithm becomes crucial, wherein you can show the part or object to the camera, and the algorithm detects the item to be picked and placed thus allowing changeovers in no time.
Concluding
The advancement of vision based technology in bin picking assures the manufacturing process's high-quality performance through precise positioning, online monitoring, and real-time coordination. The pharmaceutical industry has a lot to benefit from automating bin picking just as other industries, including aerospace, automotive, electronics, semiconductor, food and beverage among others.